This weekend its all about being British ,as the whole of Britain is celebrating the Queen's Diamond Jubilee - 60 years on the Throne, With several concerts, festivals and Street Parties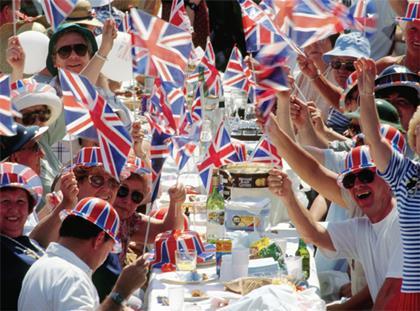 So To celebrate I have decided to dedicate my weekend posts and recipes to all things British :) 
Traditional British Main dishes
Roast beef and Yorkshire pudding - This is England's traditional Sunday lunch,which is a family affair.
Yorkshire Pudding - This dish is not usually eaten as a dessert like other puddings but instead as part of the main course or at a starter.              The traditional way to eat a Yorkshire pudding is to have a large, flat one                                       filled with gravy and vegetables as a starter of the meal. Then when the meal is over, any unused puddings should be served with jam or ice-cream as a dessert.
(Yorkshire pudding, made from flour, eggs and milk, is a sort of batter baked in the oven and usually moistened with gravy.)
Toad-in-the-Hole

 (sausages covered in batter and roasted.) - Similar to Yorkshire Pudding but with sausages placed in the batter before cooking.
Roast Meats

 ( cooked in the oven for about two hours) - Typical meats for roasting are joints of beef, pork, lamb or a whole chicken. More rarely duck, goose, gammon, turkey or game are eaten.
Traditional accompaniments to roast meats
With beef:
Horseradish sauce
English mustard
Yorkshire pudding
Gravy
With mutton and lamb
Onion sauce
Red-currant jelly
Mint sauce
Savoury herb pudding
With pork
Apple sauce
Pease Pudding 
Roast apples
Fish and chips - Fish (cod, haddock, huss, plaice) deep fried in flour batter with chips (fried potatoes) dressed in malt vinegar. This is England's traditional take-away food. Fish and chips are not normally home cooked but bought at a fish and chip shop ("chippie" ) to eat on premises or as a "take away"
Ploughman's Lunch - This dish is served in Pubs. It consists of a piece of cheese, a bit of pickle and pickled onion, and a chunk of bread. 
Shepherds' Pie - Made with minced lamb and vegetables topped with mashed potato)
Cottage Pie - Made with minced beef and vegetables topped with mashed potato. 

Gammon Steak with egg

 (Gammon is ham)
Lancashire Hotpot - A casserole of meat and vegetables topped with sliced potatoes.
Pie and Mash with parsley liquor - A very traditional East End London meal. The original pies were made with eels because at the time eels were a cheaper product than beef. About fifty years ago, mince beef pies replaced the eels and have now become the traditional pie and mash that people know. The traditional pie and mash doesn't come without its famous sauce known as liquor which is a curious shade of green and definitely non-alcoholic. The liquor tastes much nicer than it looks (it's bright green!).
Jellied eels are also an East End delicacy often sold with pie and mash
Bubble & Squeak - Typically made from cold vegetables that have been left over from a previous meal, often the Sunday roast. The chief ingredients are potato and cabbage, but carrots, peas, brussels sprouts, and other vegetables can be added. The cold chopped vegetables (and cold chopped meat if used) are fried in a pan together with mashed potato until the mixture is well-cooked and brown on the sides. The name is a description of the action and sound made during the cooking process.
Full English breakfast - Eggs, bacon, sausages, fried bread, mushrooms, baked beans
Bangers and Mash

 (mashed potatoes and sausages). - Bangers are sausages in England. (The reason sausages were nicknamed bangers is that during wartime rationing they were so filled with water they often exploded when they were fried.)
Black Pudding 

(Blood Pudding) - Looks like a black sausage. It is made from dried pigs blood and fat). Eaten at breakfast time. Black pudding recipes vary from region to region, some are more peppery and some are more fatty than others. 
Bacon Roly-Poly

 (made with a suet pastry)
Cumberland sausage - This famous pork sausage is usually presented coiled up like a long rope